Water Damage Collinsville
When pipe bursts, sewage backups, roof leaks, or flooding strike, 911 Restoration Metro East is the fresh start company that is always ready to lend you a helping hand exactly when you need it. Collinsville homeowners can breathe a sigh of relief because our water damage Collinsville experts are ready and trained to provide the highest quality of water damage repair and restoration.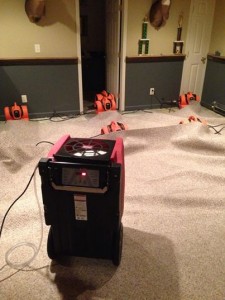 When your home is being troubled by the effects of a leak, it's vital that that issue be taken care of as soon as possible to prevent wood rot or mold growth from setting in. There's no time to waste in order to protect your home, so expect 911 Restoration to offer a quick response to your concern with our lighting fast 45-minute response time.
Water damage can be frustrating problem to deal with on your own, but with our team's help you can just sit back and relax as we work to get your home back into shape. Once our team arrives on your property, we will be conducting a free visual inspection that will help us determine the source of the damage and help us recommend the best course of action to your concern.
Our water damage Collinsville team is available 24/7 to get you the help you need whether day or night. With our response, training, and availability, 911 Restoration will make your home look good as new in no time!
Water Damage Repairs Prevents Fungal Growth
Ceiling leaks and plumbing leaks can cause excess moisture to buildup within your home. Aside from the damage water can cause, that excess moisture can lead to another problem – mold growth.
Mold can hasten the deterioration of the wooden components of your home and can release spores through the air which can cause health conditions like asthma and skin irritation. To prevent mold from getting a hold within your home, it's best to have any water damage repaired right away and mold removed by the water damage Collinsville pros from 911 Restoration.
If you do suspect your home of having a mold problem, our mold remediation experts can provide you with the signs that you need to watch out for. These include: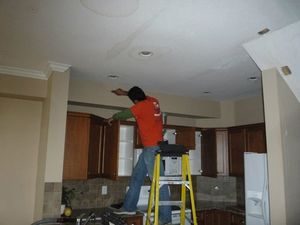 Visible black or pink spots on walls, ceilings, or rafters.
Noticeable dampness whenever you enter a certain area or room of your home.
There is a noticeable moldy smell.
Furniture, textiles, and other items within the room are damp to the touch.
911 Restoration's IICRC certified technicians will be patching up the leak to prevent any more mold problems in the future, we will extract water and remove moisture using our advanced drying technology, and we will provide mold remediation services that will thoroughly remove mold and any spores that may have been released.
Water Damage Experts That Will Take Care Of Those Disasters
We have nearly four decades worth of experience in dealing with various water emergencies which include roof leaks, sewage spills, flooding, plumbing leaks, and water-based appliance hose ruptures. Because of our experience and our training, you expect us to swiftly and professionally handle all of your water damage concerns.
If your home in Collinsville is in need of a fresh start, count on 911 Restoration to be there for you. Give us a call right away!